Versius robotic system
The Versius® Surgical Robotic System is one of the most advanced technological trends in medicine and surgery. It is engineered with precision, dexterity and versatility in mind and is specifically designed to meet the needs of patients, surgeons and the surgical team. Versius® enables robotically navigated surgeries with high precision, minimizing the invasiveness of surgery, improving patient recovery and reducing healthcare costs.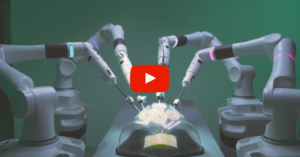 Promotions this year
Promedica has one complete CMR Versius robotic system for demonstration and teaching purposes. If you are interested, we can arrange a demonstration in our show room in Prague or a loan. Do not hesitate to contact our sales representatives by email: zt@promedica-praha.cz.
Presentation of the Versius DEMO system
From 10 to 12 May 2023, we participated as a general partner in the National Surgical Congress 2023, which was held at the Cubex Center in Prague.

Read more HERE.

The Congress will take place from 11 to 13 October 2023.

Event website HERE.
International conferences on robotic surgery:
The Congress took place on 4-6 June 2023.

Event website HERE.

The congress will take place from 1 to 4 October 2023.

Enter website HERE.
CMR
CMR's technology and approach enables surgeons to provide the best for patients. They are partners rather than vendors, so patients, surgical teams and hospitals benefit from the value they bring.
News
In July 2022, we celebrated the first sale of the next-generation CMR Versius robotic operating system in Promedica's history.

Read more HERE.

The surgical robot is one of the most advanced technological trends in the field of medicine and surgery. These robotic systems allow doctors to perform surgical
procedures with high precision and control, minimizing risks and increasing the success rate of surgeries.

One of the leading suppliers of this innovative technology is CMR, which created the Versius robotic system. This system enables robotically guided surgeries with high precision and minimizes the invasiveness of surgery, improving patient recovery and reducing healthcare costs.

Robotic prostate surgery is another area in which surgical robotics brings great benefits. With robotic pelvic floor surgery, patients can enjoy advanced prostate surgeries that are less invasive and lead to improved health.

Comparisons of robotic and laparoscopic surgery show that the surgical robot is often preferable in terms of high precision and speed, while laparoscopy may be suitable for smaller and simpler operations.

The benefits of robotic surgery are unquestionable, including minimizing risks to the patient, improving recovery after surgery, and reducing healthcare costs. This is why more and more medical centers are choosing to invest in surgical robots.

If you are interested in a surgical robot and are looking for a reliable supplier, Promedica distributes innovative surgical robot technology. For more information about our products and services, please contact our sales team at zt@promedica-praha.cz, who will be happy to provide you with detailed information and help you choose the best solution for your needs.

With the Versius surgical robot from CMR that we supply, you will have modern and reliable technology that allows for precise and minimally invasive surgeries. Contact us for more information.
Do you have any questions?