Successful first sale of the CMR Versius robotic operating system!
Let us share with you the first ever sale of the new generation CMR Versius robotic operating system in Promedica's history.
Not so long ago Promedica managed to get an exclusive distribution agreement with the European CMR consortium for the Czech Republic, Slovakia and Hungary (original report here).
Our colleagues from the Slovak branch of Unique Medical s.r.o. did a very professional job and at the end of June the purchase agreement was signed with Ústredná vojenská nemocnica SNP Ružomberok – FN.
Versius enables precise control of the movements of surgical instruments during robotically navigated procedures and will be used for general surgery at the ÚVN SNP Ružomberok.
We believe that this system will be of great benefit to both the staff and the efficiency of the procedures and the health of the patients.
We would like to thank everyone who participated in this event.
Medical Technologies Division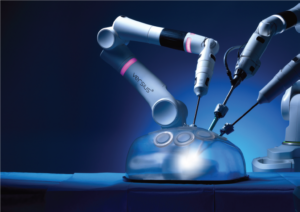 Link to the manufacturer's website: https://cmrsurgical.com/